True Girl Pajama Party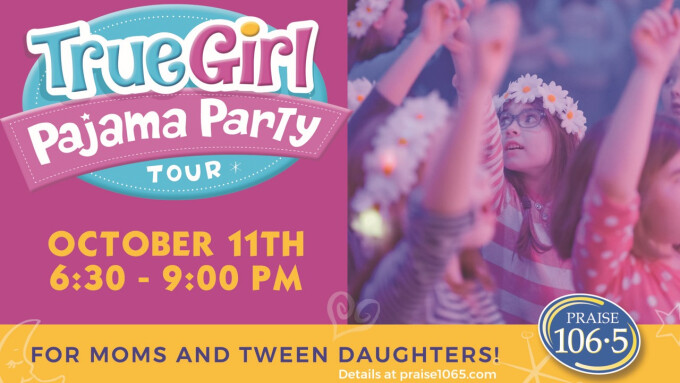 Confusion arises much earlier for today's girls in the area of gender, marriage, and family. On one hand, our culture won't stop talking about these things. On the other, Christian parents are afraid to bring them up.
Anxiety is the leading mental health issue among youth today, with clinicians and researchers both observing a significant rise. What are the root causes, and how can we help our tweens?
Insecurity strikes at the hearts of girls at younger and younger ages, especially in the area of beauty and body image because culture preys upon women in this area. Within just the last ten years, we've seen beauty icons as young as thirteen rise to celebrity power. Their images are used to tell your daughter that she needs everything from lip gloss to padded bikinis.
Does your daughter struggle with the world's lies, and does your heart ache for her to know truth? Come share the truth she needs to know in a night she'll always remember. The True Girl Tour is the largest mother and tween daughter connecting event, and is a strategic tool for moms to spend an evening planting truth into their daughters' hearts through live worship, a fashion show, interactive games, practical bible teaching, and more!
One mom who attend the True Girl event said, "True Girl is a game changer! Because of this event, we made it through the tween years. Now she opens up to us!"
The True Girl Pajama Party tour is coming to SDBC on October 11th, and we are excited to host this event! You can purchase your tickets online here. We will need help from both men and women during the day for set up, as well as during the evening event. If you are able to serve, please email Sue Gibson, our Director of Family Life.