Why Does Starfish Pack Exist?
Hundreds of children in BC go to school on Monday having had no little or no food over the weekend. The Starfish Pack movement was created in Abbotsford, BC, in response to this need. The movement has since spread to dozens of cities and towns in British Columbia. On its own, Starfish Pack is not an organization. It functions because organizations, like rotary clubs, community groups, and religious organizations, take on the movement and put its principles into practice.
It costs about $625 to sponsor a child for one year of this program, which provides a backpack each Friday throughout the school year filled with two breakfasts, two lunches, two dinners, and some healthy snacks.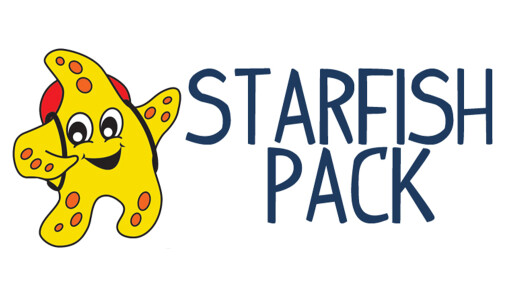 What is Starfish Pack South Delta Doing for Our Community?
We completed our first year of Starfish Pack at the end of June 2019. Our goal was to start gradually and add schools to our program as we gained an understanding of how many schools we could sustain. We started with South Park Elementary School and expanded to five elementary schools to include Cliff Drive, Pebble Hill, Hawthorne, and Ladner Elementary. We are now serving six of our public elementary schools and both of our public high schools
How to Donate to Starfish Pack South Delta
If you are interested in supporting Starfish Pack South Delta financially, we have opened a designated fund so that you can donate directly to Starfish Pack. You can give online via our online donation form from Canada Helps by clicking the button below.
If you would like to send a cheque made payable to SDBC, please send to:
South Delta Baptist Church
Attn: Finance Department
1988 56 Street
Delta, BC V4L 2B1
Donations must be designated as "Starfish Pack" in order to go towards this designated fund.