Welcome to SDBC kids!
We are so excited to welcome your kids back to SDBC Kids on Sunday mornings at 10AM! We have missed seeing your kids and know they have changed a lot since the pandemic started so we can't wait to reconnect with them.
We are taking all the necessary COVID-19 safety precautions and have added some protocols to our time together to keep everyone safe. If you would like to know what our protocols are, you are welcome to email Sue Gibson, our Director of Family Life, and she will send you the information so you can have peace of mind bringing your kids to our Sunday program. Pre-registration is no longer required. Please check your kids in with our Kids Team at the yellow school bus, just through the 56th Street entrance.
Volunteers are also needed to partner with our SDBC Kids staff to help our kids learn to Love Like Jesus. Please email Sue if you can help serve in our Kids Ministry.
---
ONLINE RESOURCES
If you are unable to join us in person on Sundays, we still want to stay connected during this time of COVID-19. Each week, we email out a video lesson and activities for you to do at home as a family. You will also be able access the online video here on Sunday mornings.
We challenge your kids to learn the following bible basics (please email Sue Gibson, our Director of Family Life, for activities to help your kids learn):
the books of the bible;
the Lord's Prayer;
the Fruits of the Spirit; and
the 10 Commandments.
There will be prizes for the kids who memorize these foundational pieces of scripture. Record a video of your kids reciting these and email it to Sue. There will be a prize on your door step within the week.
We will also be posting different activities on our SDBC Kids Facebook page. This is a private group so if you are not a member yet, please let Sue know and she will add you to the group. It is also fun to post what you are doing with your kids on there to help us all stay connected. Check it out as there are some posts already from our church families.
Follow us on Facebook or on Instagram.
---
SUMMER events: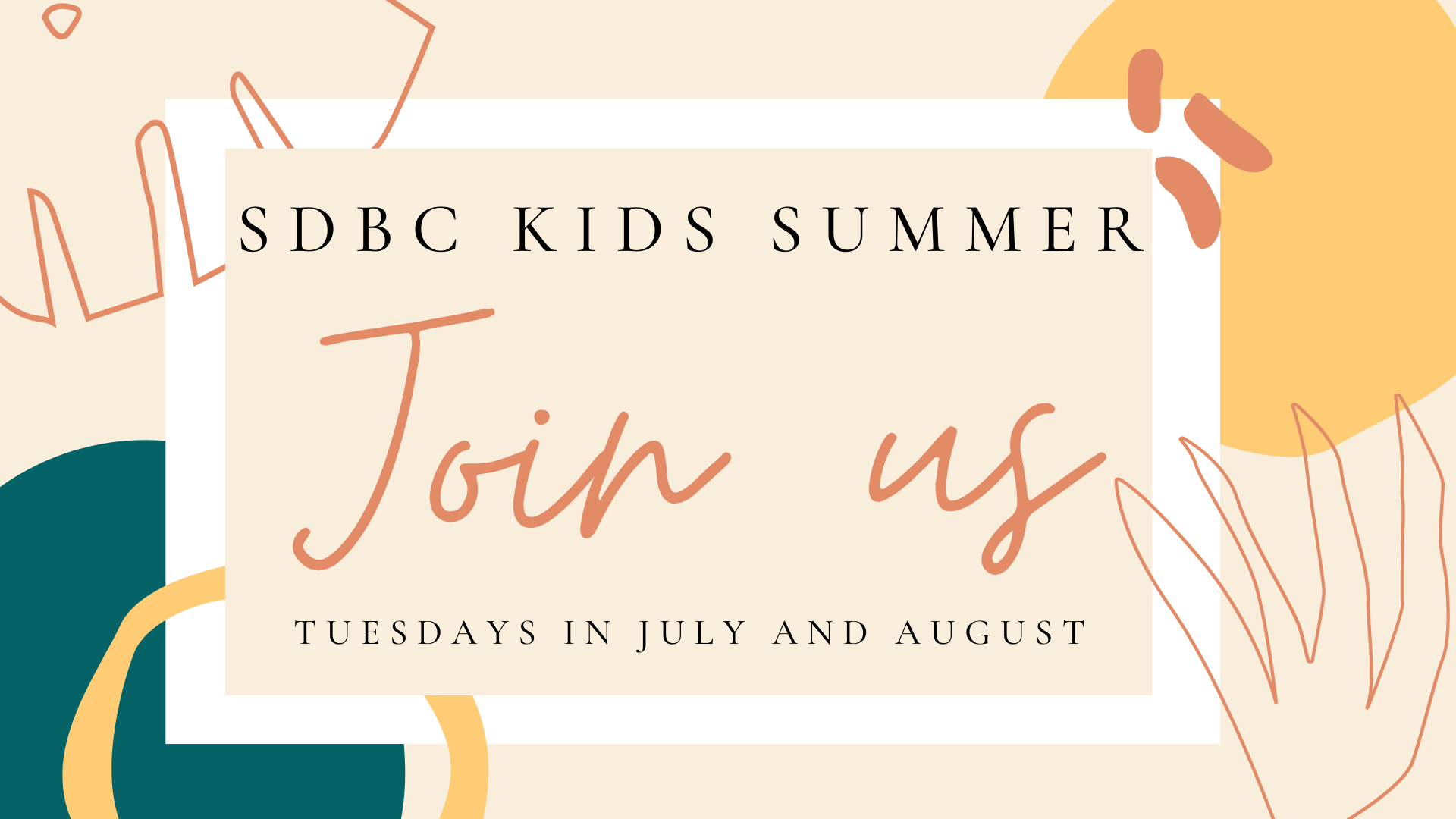 Mark your calendars for Tuesdays during the summer as we have a great lineup of events for you and your family! Our SDBC Kids team has been hard at work planning for events full of fun and connection that will take place during July and August and we can't wait to welcome you back and spend time together this summer!
July 13th // 5-7PM
Evening Picnic
Join us at Memorial Park in Ladner for our summer kickoff! This will be a time for families to reconnect, have some fun, and start the summer off right. You bring your picnic, we'll bring some games, and let's reconnect!
July 20th // 1-3PM
Wheels Parade
Ride on down to the church on your favourite self-propelled mode of transportation (bike, scooter, rollerblades, skateboard, etc.). Come with it decorated or spend some time at our decorating station transforming your wheels into a radical ride! Once your wheels are ready, it's time for the parade, followed by some skill demonstrations and an awards ceremony at the end!
Wednesday, July 28th // 11AM-1PM
Beach Day
Surf's up at Centennial! Sun, sand, and good company await on July 28th. Come have some fun in the sun, complete with a beachy scavenger hunt! Don't forget your lunch, hats, and sunscreen.
August 3rd // 1-3PM
Come Create
Stretch your imagination with our Come Create event! Join us at the church where you and your child(ren) will get to work together to make a fun project that you can take home at the end of the day!
August 10th // Time TBD
Family's Choice
Let us know what YOU want to do! Email us your suggestions for events or activities that you and your family would like to do. We're here to serve you! Picnic at the park? Water fight at SDBC? Soap box derby? Keep your eyes peeled for emails and posts on Facebook and Instagram, then vote on your preferred activity.
August 16th-20th
SDBC Kids Mission: Deep Sea
Get ready, get set, and dive deep with your family! SDBC Kids Deep Sea Dive will be a hybrid on-site and at-home, multi-day event for you and your family to participate in. Get ready to explore the bible and dive deep into spiritual habits for kids!
Please register your kids by August 14th so we have time to assemble your curriculum packages. Click here to register.
Keep tabs on our website and our social media pages (Facebook and Instagram) for more details.
---
FAMILY RECORDS:
We are updating our records for all our families. Please complete this online form to help keep us up to date.
---
connect:
If you would like more information, or if you would like to serve as part of our Kids Team, please email SDBC Kids.
If you would like to be kept up to date with SDBC Kids events, please join our Facebook page or email us.