Summer Fun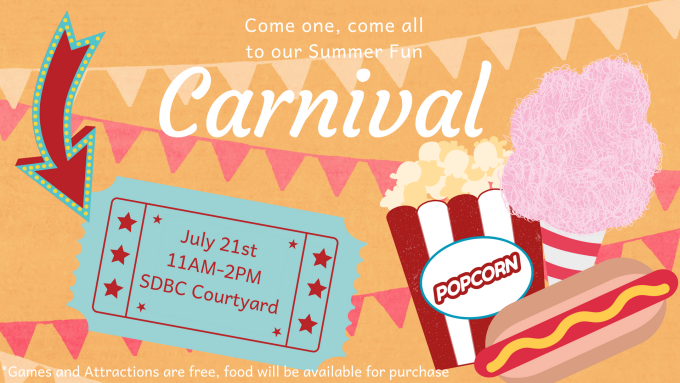 I am so thankful that I grew up in Tsawwassen. I had a neighbourhood full of kids my age, the freedom to ride my bike to school with my sisters, and awesome events taking place around the community. I fondly remember the community events put on by SDBC; the summer events never failed to draw in families from around the community to come and join in on the fun at the church. My memories from these events, and the people I met there, are among some of the many reasons I started attending SDBC. As I am now helping to plan our summer events, one of my main goals is to draw in families from our church and the entire community and provide them with similar memories that I had growing up.
Our Carnival, which is the first event in our Summer Fun series, is fast approaching and our team is working hard to get things ready. We will have a series of carnival games, a giant inflatable slide, a bouncy castle, a dunk tank, and yummy food and snack options for people of all ages to enjoy. One of our goals with this event is to provide a fun, free event for the families in our community; to draw in families with the hope that they can meet some of our church families and form connections to get involved in our church. For this reason, I am encouraging everyone who reads this to invite someone to our carnival, and for you to join them. The more the merrier! There are many people in our community who have not heard the good news of Christ and as it says in Romans 10:14, "How then will they call on him in whom they have not believed? And how are they to believe in him of whom they have never heard? And how are they to hear without someone preaching?" This event is the perfect opportunity to live out the church's mission to Love like Jesus and show our community how much we love them.
So, come one, come all, and join us for our carnival on Saturday, July 21st at 11AM! For information on all our summer events, visit www.southdelta.org/summer.