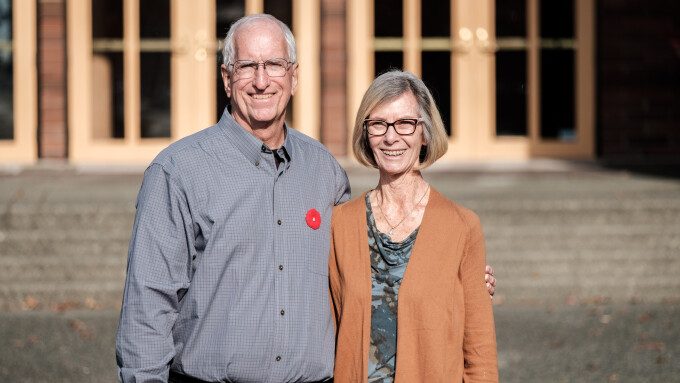 As my season of serving as a pastor at South Delta Baptist Church comes to an end, I am reminded of my third day in my SDBC office. I arrived early in the morning, wanting to get a good start. There was a horrid stink in the office area. Clearly a decomposing human body, I thought. I complained. No one seemed alarmed or seemed to care. Sue said, "Don't worry, it's a rat. Harry will find it. It happens all the time." Coming from Arizona, I was unfamiliar with rats. On day five, when Harry hadn't found the horrifically odorous creature, I seriously questioned if, or why, God had really called me to this church and this place. Dead rats are awful.
Harry finally found the seriously decimated creature and removed it, and, following a scented candle lighting ceremony, joy and gratitude existed. Everyone in the office suddenly looked nicer, smiled freely, and certainly smelled better. It was an interesting beginning to nine years that have changed my life.
Life is about relationships. Serving as a pastor at SDBC, I am thrust into relationships. I happen to love people which is helpful if you are a pastor or serve in the church. I receive energy from people. God created Eve so Adam would live in relationships. We are designed to live this way.
Where we find people, we find dead rats too. I don't necessarily mean this in the literal way of a decomposing animal, but rather in a figurative way, referring to those things in our life that stink. It's a byproduct of humanness. We call it all kinds of things; God calls it sin. I have dead rats that I sometimes allow to live in my life for a period of time. I can get somewhat used to the odour of them and sometimes allow them to go uncollected and unremoved from my presence. So do you, my friends at SDBC.
Harry can't help us remove these dead rats. Only Jesus Christ can. At the beginning of Ephesians 5, we read, "Therefore be imitators of God, as beloved children. And walk in love, as Christ loved us and gave himself up for us, a fragrant offering and sacrifice to God."
These past nine years I have come to depend on you, my family, my friends, to show me what it means to walk in love as Jesus does. Along the way, I think God has allowed me to help some of you learn to walk in love, finding and removing our dead rats as we are becoming a "fragrant offering and sacrifice to God."
Chris and I are so grateful to you. We see Jesus all around us when we look at you. When we love like Jesus, when we share the gospel message in so many creative, unique ways in our community, you and I, the church, can transform our culture. Living in relationship may seem difficult at times, but you are created for relationship, to live life in this world knowing a better one is coming soon.
As we leave pastoral ministry, we leave knowing God is at work in each one of you, as he is in us. Life is too short not to love like Jesus. As we have tried to demonstrate this, we are the ones who receive the life altering benefit. We give all the praise and all the glory for the past nine years to our Lord and Saviour Jesus Christ. Our prayer, as we leave the awesome SDBC staff, is that God will bless you as our friends and SDBC beyond anything we can think or imagine.