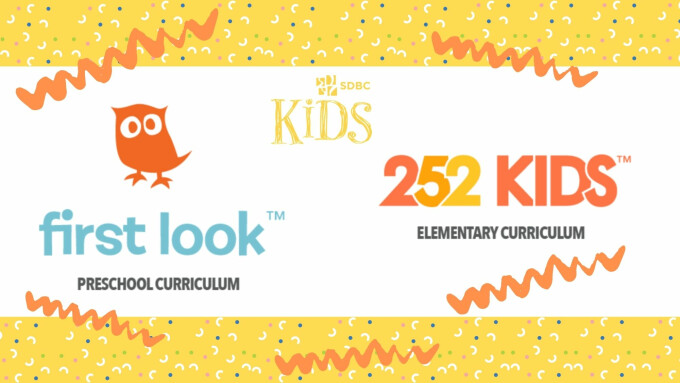 Hello SDBC Families! The past five months have been quite different for us with our SDBC Kids program. We have had to adjust how we deliver the same content from Sunday mornings at church to online in your homes. I know many of you watch weekly and your kids are loving the videos!
What Does Our Online Programming Look Like?
Each week, SDBC Kids posts two videos on our website: one for our Movers and Preschool ages and the other for kids in Kindergarten to Grade Four. These videos are fun and engaging for your kids with worship songs, a story that fits with the monthly theme, and a life application for your child. Along with the video, we send out content for you to engage your children with easy, at-home activities and devotionals.
If you are not currently receiving our weekly SDBC Kids programming, please email Sue Gibson to be added to our email list!
Looking Forward to Fall
One thing you may have noticed is that our curriculum has changed! We are excited to announce that we have started using Orange Curriculum for our SDBC Kids programming.
This curriculum is something we are very excited about because we feel it is quality content that is current and really meets our kids where they are at developmentally. Orange also provides great resources for you as a parent! This curriculum gives us so much flexibility in the current times with ways to do Sunday programming online, as well as when we can meet back in person at church.
Each month is a different theme that goes through topics like identity and image, creativity, friendship, and integrity.
Our First Look content is geared towards our Movers/Preschool children with Ollie the Owl and his friends sharing stories from the Wonder Clubhouse!
Our 252 Kids content is geared towards those in kindergarten and up. The video is the same for all ages but with age specific activities and devotionals.
How Can You Engage With Our Curriculum at Home?
Each week our lessons have a Parent Cue. The Parent Cue gives you an overview of the scripture covered, keywords used, and practical ways to connect with what your child has learned.
There is also an at-home activity for you to do alongside your child that ties into their lesson. For the older kids, each week there is a four-day devotional for their specific age group to work through with you or on their own. This leads them deeper into the theme for that month by reading scripture and reflecting on God's Word.
Coming Up
Watch for social media posts, socially distant get-togethers, fun memorization challenges with prizes, and maybe even some virtual hangouts!
Keep safe and healthy! We miss you and your families!