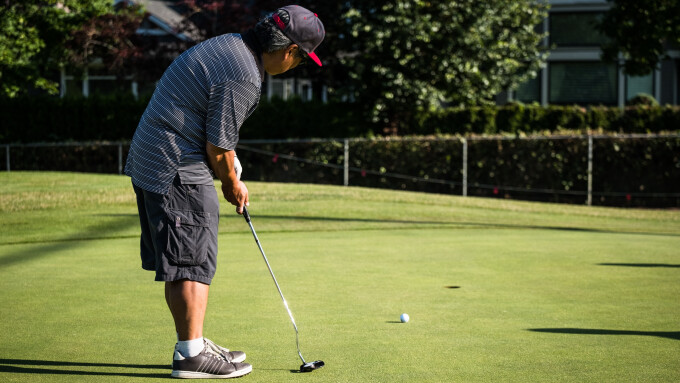 The annual SDBC Men's Ministry Golf Tournament took place on Friday, June 21st at the Links at Hampton Cove. Twenty men gathered together for a time of fun and fellowship. The weather was perfect as the men set up around the putting green for the warm-up putting challenge. "Grand Marshall" Eric Tegelberg organized the crew and made sure that those uber competitors kept within the rules. While many tried, ultimately, Rob Gibson prevailed and was crowned the winner.
The main event was the reputed "pink ball" team challenge that pitted teams against other teams. Individuals within the team took their turns playing the pink golf ball for one hole each. The competition was best ball, so the team score on each hole was the best score. If a person playing the pink ball lost it, he was then given a yellow ball to play. If teams lost both balls throughout the round then penalty strokes were added to their score at the end of the round. Suffice it to say, there was extra pressure for players when playing one of the coloured balls! It is amazing how attracted these pink and yellow balls were to water hazards, ditches, blackberries, and other out of bounds areas.
Players hung around on the final hole to watch other teams finish. Sean Bremner put on a display by driving the green more than 250 yards on the final hole. The golfing was fun but most seemed to enjoy the fellowship within each group and together at the end of the round.
Relaxing on the patio after the round, the men were served a BBQ dinner while they enjoyed the opportunity to fellowship with each other. Prizes were provided for both good golf and good tries! One of the major goals of SDBC's Men's Ministry is to create opportunities for men to have fun and socialize and this event definitely accomplished that goal.
Our Men's Ministry will continue to be busy this summer and fall providing opportunities for guys to get together at events such as a Vancouver Canadians game and a Vancouver Whitecaps game. If you are interested, or would simply like to be informed of other upcoming events, please visit our website.