A Summer of Youth Ministry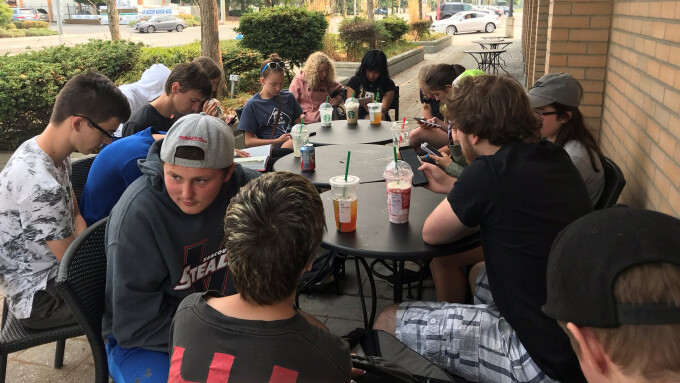 This summer we have seen God work in incredible ways in our youth. Due to the generosity of our church family, we were able to raise enough funds to support two interns to help with youth ministry throughout the summer. This allowed us to run our high school program at full capacity with weekly events, a weekly bible study, and other special events.
Whenever you plan to run a ministry throughout the summer, there is always a fear that students will be away and won't show up, but we saw the exact opposite this summer. There was a consistent group out every week on Sunday nights, ready to engage in the word of God and participate in activities. We saw a few students make the transition from our preteen program to our high school program which is always a difficult transition to make. These students were welcomed in as part of the group and engaged with everything we did.
One of the most encouraging things we saw this summer was the engagement with our weekly bible study. Every Monday during the summer we met at Starbucks in Tsawwassen and the youth interns, James Cox and Connor Bower, led the students through the book of Jonah. It was encouraging to see James and Connor lead the students in this study and see the students tracking with the passages, asking questions, and talking about applying it to their lives. It was also amazing to see most of our Sunday night group show up for these bible studies. We ended up taking up every seat in the whole outside area of Starbucks with teens eager to learn from God's word.
Through all of this, we have seen students not only grow in their faith with God but we've even seen two students asking more questions about how to become a Christian and have God as part of their lives. One of these students said they believe Jesus is God but struggles with fully committing because they would have to change the way they live. This is just one example of how God is working in the lives of youth in South Delta. They are wrestling with the reality of the gospel and its effect on their lives.
I am excited for what God has in store for the rest of 2018 and beyond for youth in this community. Would you commit to praying for our youth as they go back to school in the next few weeks? Pray that they would be lights in their schools and pray for those who are wrestling with having Christ as a part of their lives.
The preteen and youth ministries are only possible because of church members who volunteer their time to pour into students to see them grow in faith and come to know Christ as their Saviour. We are in need of more volunteers, especially for our preteen ministry this upcoming year. Many people believe they need to be "cool" or outgoing to be a youth leader, but there is no perfect "type" of leader. We are looking for people who love Jesus and want to impact students lives with the gospel.
If you are interested in joining us in this ministry in any capacity, whether to help with preteens or high school students, please email me or call the church office at 604-943-8244.