The response to the spread of COVID-19 continues to change very quickly. The SDBC Pickleball Committee has decided, in the interest of minimizing exposure to COVID-19, that all pickleball sessions at South Delta Baptist Church will be suspended until further notice. We will continue to monitor the situation and hopefully resume play when appropriate. We regret making this decision but feel it is the most responsible action for us to take at this time.

Respectfully,
SDBC Pickleball Committee
What is Pickleball?
Pickleball is a paddle sport that combines elements of badminton, tennis, and ping-pong. Played on a court with a 36" high net, games at SDBC are played as doubles (two people per side). Each player uses a solid paddle, made of wood or composite materials, to score points by successfully hitting a plastic ball (commonly known as a whiffle-ball) over the net, without it being successfully returned by their opponents.
The sport shares features of other racquet sports, the dimensions and layout of a badminton court, and a net and rules similar to tennis, with a few modifications. One of these modifications includes letting the ball bounce once on either side of the net for the first two hits of the game. Pickleball was invented in Seattle in the mid-1960s as a children's backyard pastime, but has become popular among adults as well. It is now the fastest growing sport in North America.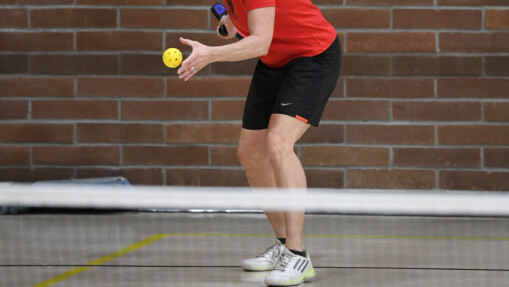 Who can attend:
Our pickleball sessions are open to all adults interested in having fun and improving their fitness. Players are asked to attend only one session per day, to give players as much playing time as possible. Exceptions would be for experienced players designated to help coach or assist with skill development. Please see sign-in procedures below.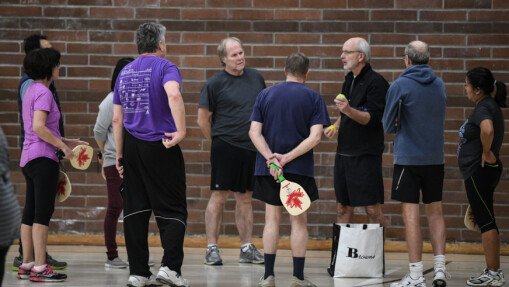 Player Levels:
We have different sessions available, to accommodate four different skill levels. Players are encouraged to use the USAPA skill self-assessment sheets to determine which session it would be appropriate to attend. Players can also look up skill level ratings on the International Federation of Pickleball web page.
Click here to download the Delta Pickleball Skill Levels.
Beginners: these are players who are fairly new to pickleball and are working towards understanding basic ground strokes, positional play, scoring, and are beginning to sustain play longer. These players are working towards a level 2.0 of play.
Advanced Beginners: these players have participated in the Wednesday beginners session (see below) or equivalent, have completed the skill assessment sheet, and fit the criteria established for a 2.0 skill level of play.
Intermediate: these players are able to sustain play consistently and are at a level 2.5-3.0.
Advanced: players at this level can consistently sustain play at a faster pace and are at level 3.5 and above for competitive play.
---
Available sessions:
See below for latest schedule changes/cancellations.
Monday evenings:
Session One (4:30-5:45PM): beginners to advanced beginners
Session Two (5:45-7PM): advanced beginners to intermediate players
Session Three (7-8:15PM): intermediate players
Session Four (8:15-9:30PM): Competitive Pickleball: advanced players; maximum 20 players.
Wednesday evenings:
Session One (4:30-5:45PM): advanced beginners to intermediate players
Session Two (5:45-7PM): intermediate players
Session Three (7-8:15PM): beginners and new players; this session is open to brand new or those newer to pickleball who would like to learn how to play in a non-threatening kind of environment. Experienced players may also join these games to help encourage newer players and to help explain some of the nuances of the game as their skills improve. Note: one court will be set aside during this session for brand new players to learn the basics of pickleball. There is a maximum of six players each week in this introductory class to facilitate the teaching and practicing of skills. All equipment is provided. Please email us at to register for this introductory lesson.
Session Four (8:15-9:30PM): Competitive Pickleball: advanced players; maximum 20 players.
Saturday mornings:
Session One (8:30-10:30AM): Competitive Pickleball: advanced players; maximum 20 players.
Session Two (10:30-11AM): Skill Development Session
Session Three (11AM-12:30PM): advanced beginners to intermediate players
Session Four (12:30-2PM): intermediate players
Sign-in procedure:
There is a drop-in fee of $2 for all sessions.
For those who will be attending session one on Mondays and Wednesdays, we ask that you do not enter the gym until your allotted time due to other user groups who are in the gym prior to our time slot.
For those who will be attending sessions two and three, we ask that you sign in when you arrive at the church for your session, then wait in the foyer of the church until 5 minutes before your session is scheduled to begin. This is to reduce overcrowding in the backcourt and to lessen the distraction for those playing.
Don't worry if you don't have your own equipment, as we have extra paddles available.
The fees collected will be used to cover expenses and to support local charities in our community of South Delta. In the past, it has been used to purchase balls, paddles, and a new net. We have supported both the SDBC Food Bank and Delta Assist with a food drive, along with a monetary donation to Delta Assist on behalf of all of us at SDBC Pickleball.
If you would like more information about pickleball, please email .
If you would like to receive our monthly newsletters, along with other Pickleball related notices, please fill out this form to be added to our mailing list.
---
Latest schedule changes:
All sessions cancelled until further notice.
---
Newsletters:
All our past newsletters can be viewed by clicking here.
Fill out this form to be added to our mailing list.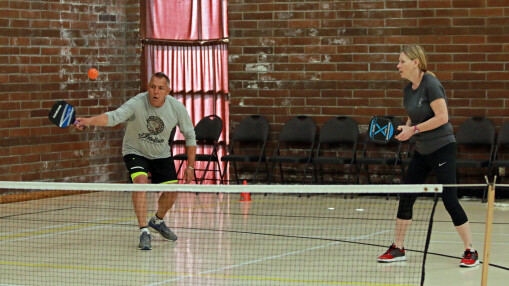 ---
Winter Classic Tournament
Our winter classic tournament and luncheon took place on Saturday, February 22nd. Click one of the photos below to expand and scroll through the photos.
Tournament