SDBC Seniors hosts different events in order for seniors to connect with one another.
Senior scene luncheons
Senior Scene luncheons are for senior couples, singles, widows, and widowers from within our church, seniors residences, and the community. Come enjoy a home style lunch, uplifting music, and warm fellowship while learning principles of life from the bible through various speakers and musicians. Luncheons take place every third Tuesday of each month at 11:30AM. Suggested donation of $5. Lunch is free if you are a first-time visitor.
Calendar of UPCOMING DATES:
February 18th: speaker will be Gerard van Dop; music by the Thursday morning men's prayer group
March 17th: special guest Lynda Clarke, who will be providing the message and music
April 21st
May 19th
---
UPCOMING EVENTS:
Potluck & Hymn Sing
Saturday, February 1st // 5:30PM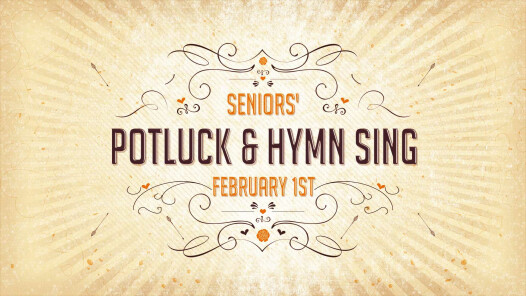 Come join us at the Dobsons' home for a great night of food, fellowship, and hymn singing! Make sure to bring your favourite potluck dish (appetizer, main dish, or dessert) to share with the crowd. Also, come prepared to join us as we take some time to sing and enjoy some familiar and wonderful hymns.
Email Sonya Dobson or Dave Dobson for more information and to RSVP prior to January 27th. You can also call the church office at 604-943-8244.