Summer Interns Update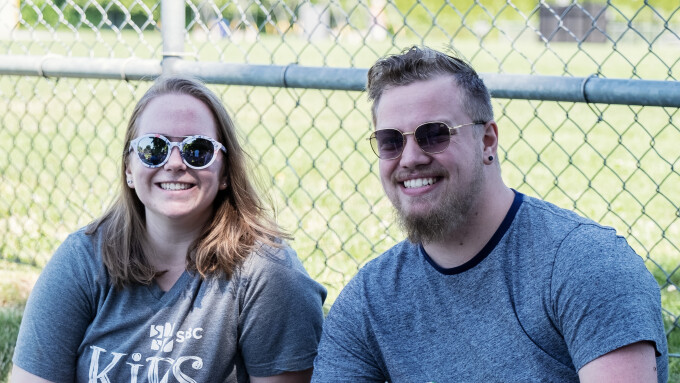 Kaitlyn and James have been serving on staff at SDBC as our summer interns. They are being developed as leaders and each took on larger roles this summer in their respective ministries. Kaitlyn has been serving in SDBC Kids, working on running our special events such as the church picnic and Hero Training Camp. James has been serving in our Youth and Youth Adult Ministries, helping to organize the Salt Spring Island missions trip and other summer events for our youth and young adults. Here is an update of their summer so far:
Kaitlyn Shipowich:
This summer has been a whirlwind! After almost two months of studying abroad in Japan, I returned on July 2nd and hit the ground running to prepare for our Family Camp. This camp has been my focus for the last month and it all culminated last week when we put on this camp for the families of our church. It was an incredible three days full of worship, games, and time spent learning valuable life lessons as a family. We spent three days teaching the kids how to be Superheroes for God through fun experiments, games, and activities, all geared towards working together as a family. God was clearly at that camp as you could see they joy on the kids' faces as they came in every day excited to worship Him and learn how to become Heroes. On the last day, one of the kids came running up to me before camp, absolutely bursting with excitement, wanting to know what the lesson for the day was going to be. She was so full of excitement and wonder that joy just poured out of her. Seeing this reminded me of why we put on programs like this. All the work that goes into planning, organizing, and executing them are completely worth it to see kids get that excited to learn about God and the things He can do for us in our lives.
Throughout this past month, between teaching the kids in Sunday School, playing games at our church picnic, and interacting with kids at Family Camp, God has been reminding me constantly of Matthew 18:3 where Jesus says, "Truly, I say to you, unless you turn and become like children, you will never enter the kingdom of heaven." These kids that are in our church know who Jesus is and what he has done for us and have such an excitement to learn more about who He is and what He has done. They tell their friends, bring them to church, and have such a joy for life, wanting to trust in God and are hungry to learn more. As I'll be entering my final year of university this September, I've been re-learning to put all my trust in God like these children do. I may not know exactly where these next few years will take me, but like these kids, I know that I'm not doing this alone and God is with me every step of the way.
James Cox:
This summer, I have served as the youth and the young adults intern. Through this position, I have been focused mainly on our young adults and our high school students. While God is always at work, I have especially seen His plan at work over the past year. Within the young adults group, we've seen people return who had walked away, and a few of my non-Christian friends have started attending. They have enjoyed the fellowship and have connected with the core group we have built up here. Within our high school group, it is easy to see the way our students have grown in maturity and faith through our Salt Spring Island missions trip and our Sunday night youth program. For me, personally, this summer has been yet another confirmation that working in ministry, specifically youth and young adult ministry, is where I'm meant to be. Getting to work full time, while increasing my responsibilities, is a great chance for me to grow in my role here at SDBC. This summer internship has also given me the recharge I needed before heading back to school at Pacific Life Bible College in September.
Please continue to pray for James and Kaitlyn as they complete the summer and transition into their university schedules in the fall.