Internship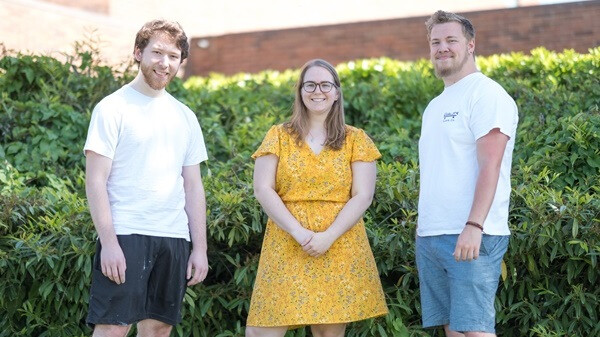 A few months ago, we asked our church family to support a fundraising initiative that would help support three summer interns helping in our youth and children's ministries throughout the summer. Through generous giving and our Mother's Day bake sale, we have seen over one third of the needed support raised for these interns. We asked each of them to write about their experience so far as interns and what they are working on for the summer.

James Cox
With every internship that I have done over the past few years, each one has been amazing and so far, this one is destined to be amazing too. I am always so excited to get hired again to continue working within our youth ministry and helping Kyle to make it the best it can be.

This spring has been full of great nights with the youth, running programs, building up the community, and helping to teach the gospel to the youth of South Delta. I have been involved in planning and running Sunday and Thursday nights alongside Kyle in our youth and pre-teen groups. Also, Kyle has been teaching me about running and leading a ministry, as well as taking time to teach me theology. I am excited to see how God will use me and this ministry to further His kingdom, and for all the ways our church can leave a lasting impact on those we encounter this summer. I am excited to see how I will be able to grow and develop over the summer as I continue to pursue vocational ministry.

Connor Bower
It has only been three weeks of working at SDBC and each day has gone by so fast. Between furthering my own faith with my coworkers and continuing to plan and be a part of the community, my days are filled. I am looking forward to continuing my work with the people of SDBC and the people of our community in hopes that they see my commitment to my work and God.

I am currently helping with renovations in the youth centre to improve the environment for our weekly youth attendees. I am also looking into the different events that are hosted by the communities of Ladner and Tsawwassen so that we can have a regular presence at these events. Additionally, I am planning other events in the community that will be open to the public while using local shops and locations to establish more community connection.

Kaitlyn Shipowich
I cannot believe that it has been over two years since I started working with SDBC Kids. This internship has been such a blessing and is so much more than just a summer job. As my role shifts from doing part-time administrative work for Sunday programs to a full-time summer position, I am excited to see what God has in store! The staff and attendees of SDBC have been so supportive of us interns and I am very thankful for the intentional mentorship of the pastors and staff. I have grown significantly in my leadership and administrative abilities thanks to them and none of it would be possible without God's incredible love and providence. He has shown me that ministry is not always easy and is so much more than a 9-to-5 job. Still, God has never given me a task I cannot handle with His guidance.

The SDBC Kids team is working hard on our summer events. Planning the Carnival, Breakout, and church picnic. I am really looking forward to each of these events as I know they are going to be quite fun! I believe that God is doing some amazing things in this church and I am so thankful to be a part of it.