Giving Campaign Update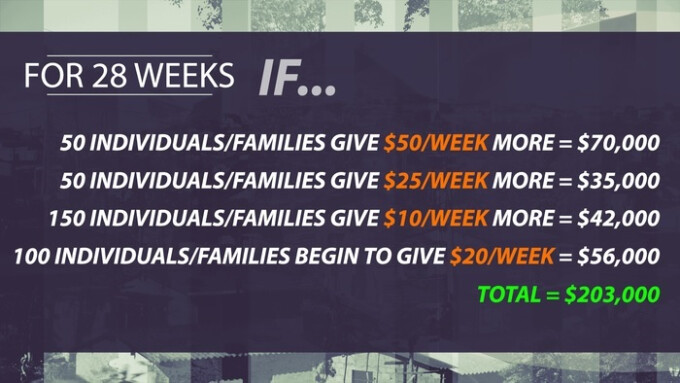 On June 24th, we started our Giving Campaign to allow our church family to have a healthy financial state so that our mission to be ambassadors of God's kingdom in our community could be realized. We were projecting a deficit of $203,000 by the end of the year if the giving pattern did not change, so we asked you to partner with us for the remaining 28 weeks by committing to give above and beyond our already committed funds to propel our mission forward. You have responded to this call, and in the last 14 weeks, we have erased $55,602 of the projected deficit for the year. We thank you for your commitment to the mission of God and for giving sacrificially.

With just 14 Sundays left until the end of the year, we are half way through the campaign, and we still have $147,398 left of our giving campaign goal. We have always had a strong 4th quarter in our giving patterns, but we will need exceptionally strong giving in the last 14 weeks to meet our goal. If you have not already partnered with us in participating in this campaign, please consider signing up for automated giving or increasing your automated giving in order to meet this goal together.

We trust that God is at work, and as we discussed in last Sunday's sermon, we want to invest in bringing the gospel hope to the next generation that is desperately crying out for the marvellous light of Christ. We want to participate in sacrificing our own resources so that our children, and their children, and their friends can see that there is a God who is on mission to redeem them and to give them a new vision of His perfect kingdom.

May God use us in showcasing our glorious God who is the Father to the fatherless and who is telling this generation that He has given His Son so that we would be included in His family.