Life Began in a Garden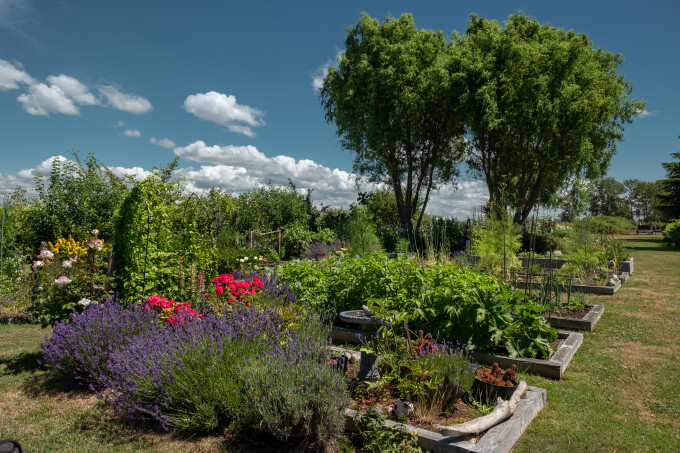 Several years ago, SDBC set aside an area on the north side of the church building for a community garden. Master gardener, Colleen Adam, and Dr. Larry Adam spearheaded this initiative and were supported by Pastor Mark Johnson and volunteers.
The lumber needed to create the frames for the gardening plots as well as the initial soil were donated. On a Saturday, a team of volunteers cut the lumber to size, nailed the frames together and created the first phase of the garden, 12 plots each approximately 3' x 12'. The first gardeners were excited to have a space to grow their crops.
The demand for plots quickly grew and another 18 plots were soon added. In addition to the plots, fruit trees were planted on the north side of the yard. Within the last two years, an SDBC member donated another six fruit trees. Now the birds, as well as some gardeners, enjoy the apples and cherries.
Access to water is also provided by SDBC. Recently, the hose once connected to a tap by the pastors' offices was replaced by an underground pipe to a central location in the garden.
There are approximately 20 gardeners working the 30 plots, and some of them are the original gardeners. Others have since joined us, leaving their place at Earthwise. A few gardeners have moved away from Delta, but have been replaced by others quite quickly. We have seniors looking for a way to stay active, and at least one of them has attended our Senior Scene luncheons. Most of the gardeners live in homes without access to a place to garden. At present, there is only one member of SDBC that gardens with us. Our gardeners live in Tsawwassen, Ladner, and even Richmond, with one living in Vancouver who comes out to Tsawwassen on weekends to visit her parents and work her plot. There is currently a waiting list of people interested in using a plot.
Relationships have been developed with SDBC and our community gardeners. They are very thankful for the space provided by the church and new comers are surprised that there is no registration fee or annual rent. However, they are encouraged to give their "first fruits" of produce to our Community Dinner ministry. Others may offer cut flowers to the church. It is our goal to encourage all gardeners to join our church community.
Gardeners are special people. Abbey, one of the first gardeners, recently said that gardeners learn to have patience as they diligently work the soil. She said she enjoys trying new varieties and often is surprised by what she harvests. Every gardener has a story to tell and they are eager to share their love of their favourite past time.
You are encouraged to visit the garden. As Christians, we know that life began in a garden. God created everything for us to enjoy. Each time we enter our community garden we are reminded how well blessed we are.