Catching up With Staff: Richard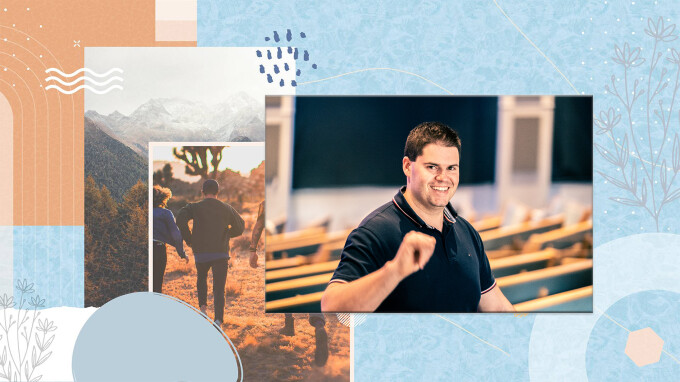 Richard Staples is a crucial member of our staff team, and this week we get to hear from him! Richard's ability to cook impressive meals for his family and friends is almost as incredible as the love and care he shows for his team members here at SDBC. Whether your computer mouse stopped working randomly, or the internet at the church needs rewiring, or a lightbulb 60 feet in the air needs changing, Richard is there to help and to serve and to love his team. He is an incredibly generous person and a very hard worker. We highly value Richard on our SDBC staff team.
What is your role at SDBC and how long have you worked here?
I started volunteering on the tech team in April of 2015 and eventually was brought on staff in January of 2016. The "sound guy," the "tech guru," the "donut guy;" I've surely been called many different things, but ultimately I oversee all the tech aspects at the church. This includes working with the computers, managing the internet network, upgrading or fixing the lighting in the auditorium, and keeping the sound and video systems operational for all the Sunday services and other events at the church. But I also love to help out with other ministries and tasks around the church that aren't tech related.
What is something about you that people in the church might be surprised to discover?
I studied civil engineering at BCIT and work full time at a civil engineering firm in Vancouver. I surely miss getting to work with the SDBC staff during the day times so I look forward to Sunday mornings, where I can work with the staff while worshipping/serving God.
Another interesting thing is that although I can be seen 99% of the time wearing shorts, I do own a few pairs of long pants!
What are some of the things you love most about being part of the SDBC community/family?
The love, care, and encouragement everyone has for each other. Whether it's working alongside everyone on staff or catching up with other church family members on a Sunday morning, time spent with everyone at church is always a highlight of every day.
How has your role shifted and changed since the start of COVID-19?
In some ways it has changed, and in others it hasn't. When COVID first hit, and we had to stop in-person services, we switched to a recorded service format. So, for myself, with the tech side of things, I had to learn how to use some new equipment and software so we could record all the audio and video elements of a Sunday service so it could be edited in post-production. Then we switched to a livestream platform so had more equipment and software that myself and our tech team had to learn so we could bring a Sunday morning service to everyone live online.
What are some of the challenges and triumphs you have encountered in your life and work since the beginning of COVID-19?
Since I work at an engineering firm during the day time, I was super thankful that they were completely understanding that on Wednesdays I would have to leave work shortly after lunchtime so I could head to the church and help with the tech setup for the worship rehearsals and service recordings in the evening. Some days I would be busy at work and many of my colleagues would say, "Richard, don't you need to get to church?" I was super thankful they were always understanding of my other commitments.
How can we pray for you in this season of life?
You can surely pray for the health and safety of everyone on the worship team, tech team, and pastoral team. Every week we are devoted to bringing the Word of God to everyone, either in-person or online, but we do need all of us healthy to make a service happen.
Click here to email encouragement to Richard.