Catching up With Staff: Jordan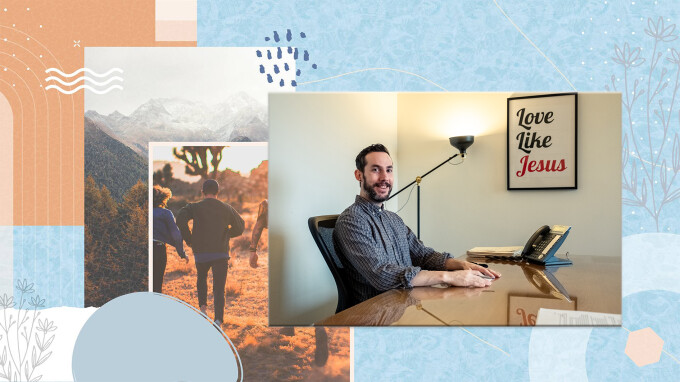 This week is our last week of the staff series! We have spent the last 15 weeks getting to know the staff here at SDBC and learning about how COVID has changed their lives and work. Can you believe it has been 15 weeks since the first interview? Time just flew by!
Today we hear from Jordan Scott, our Executive Pastor! Jordan is a fantastic leader, co-worker, and friend. Some notable aspects of Jordan that we all love and appreciate are his one-of-a-kind sense of humour, his gentle, yet persistent, realism, and his great love for people and this church. It is a total blessing to work with Jordan!
What is your role at SDBC and how long have you worked here?
I first started working at SDBC in the summer of 2006 as a youth intern. Since 2006, I've had the privilege of serving in a number of different roles on staff, including my current role as Executive Pastor.
What is something about you that people in the church might be surprised to discover?
In my early twenties, I had the opportunity to go on a backpacking trip primarily through Europe. Part of this adventure included taking a ferry from Spain to Morocco in Africa. The first city we travelled to in Morocco was Marrakesh. We arrived midday and were dropped off at the bustling Jemaa el-Fnaa square to the sights and sounds of something from Indiana Jones. We were immediately invited to watch a street performance. I thought this performance was musical in nature as a man started playing a flute-like instrument. Seconds later, a giant snake emerged from a basket. I have an incredible fear of snakes. I also have an irrational fear of snake charmers!
What are some of the things you love most about being part of the SDBC community/family?
I love that our church is committed to being a light in our community. We have always been a church that invests in initiatives and ministries that are centred around sharing the Gospel and connecting people to Jesus. My faith journey is reflective of this priority. I hope and pray that God continues to use SDBC as a missional force in our community!
How has your role shifted and changed since the start of COVID-19?
At the start of COVID-19, we had to pivot much of what we do offsite and into an online/digital context, which involved quickly planning, learning, and implementing new technology and new ways of doing ministry. A major part of this shift involved establishing new policies for staff, ministry, rentals, memorials, and weddings in order for our church to operate during COVID-19. We've had to continually make changes and tweaks as COVID has unfolded. Being a planner and strategic thinker, I've had to remain flexible as we've gone through a number of different phases of COVID-19 that make long term planning difficult.
What are some of the challenges and triumphs you have encountered in your life and work since the beginning of COVID 19?
A big part of why I love being a pastor is people. I love connecting with people and COVID has dramatically reshaped how I do that part of my job. I've missed the ability to gather in-person on Sunday mornings along with many of our weekly ministries. I've also found it difficult to do something as simple as grabbing a coffee at Petra's with people. While I am thankful for the ability to call someone on the phone or connect with someone on Zoom, being with people in real life is much preferred!
One of the triumph's I've noted over the course of COVID-19 is how well our staff has adapted, remained joyful, and grown. I'm incredibly thankful we have a fantastic staff team that is flexible, supportive, encouraging, and committed to SDBC.
How can we pray for you in this season of life?
Please pray for wisdom and discernment as we navigate the church forward during a challenging season of life full of uncertainty due to COVID-19. Pray that despite church being very different right now, that we would see people come to faith in Christ!
Click here to email encouragement to Jordan.