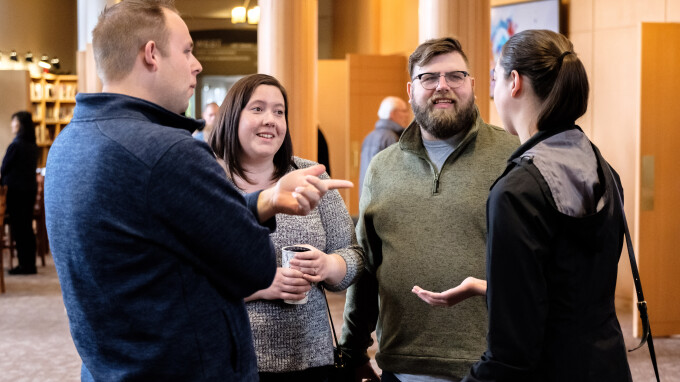 Joining a community group has been crucial for me in making connections at SDBC. My wife, Megan, has been a part of this church for almost 20 years, so connecting for her is easy. But I just started attending this church in May, coming from a church of around 60, to one of nearly ten times that, and not knowing anyone but her. We were placed in a group of married couples with a span of ages and it has been great to have support in a cross-generational setting. Being in the group has also led to more connections being made at church on Sunday morning, along with opportunities to serve.
Moving to a new country, new province, new city, or new church is difficult, even in the most ideal situations. Often the hardest part is connecting and getting to know people, even for those who have come to church for years. One solution is to join a community group. It is hard to find time in our busy schedules but this is something you need to intentionally make time for and it is so worth it. I have never met a community group who was not friendly and welcoming. Community groups are places we can build our faith in Jesus Christ. Not only can we be encouraged, but we can encourage others as well. We need to pray for other people and have people pray for us. Community groups help to connect us to God, the church, and people beyond our community group. They are for everybody, whether you are 18 or 99.
If you are interested in joining a community group, click here for more information.