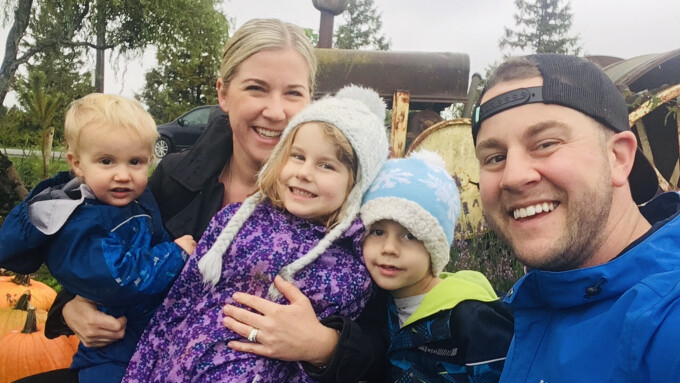 My name is David Mueller and I have attended South Delta Baptist for about 16 years. I came to accept Christ at this church and also met my wife, Rachel, here. We have been married for 14 years and have three beautiful children, Payton age 7, James age 6, and Kai age 3.
During this uncertain time with COVID-19, God has been ever-present in our lives. Our usual chaotic lives where I am running a small business, my wife is working shift work as a registered nurse, and all of our kids are in too many activities, has slowed down. Through this, we have learned to enjoy our quiet time and spend more time together. We have been watching sermons together on TV and spending more quiet time with God. But I miss seeing everyone at church. I miss being present for sermons, talking with familiar faces, and sharing with others about how their week has been.
We have been struggling during this time. Our youngest son was diagnosed with a lifelong disability, my company, which I rely on to support my family, has slowed down, and Rachel had to step into the unknown in the hospital as a registered nurse. This new diagnosis, the stress of the unknown with our finances, and my wife putting herself at risk as an essential service worker has made my wife and I rely more heavily on God and trust in his love for us. Not only has this been a time for reflection, but it has been a time when we really needed to get on our knees and pray for God to help us.
My prayer request from the church at this time would be for more people to be brought closer to Christ. Please also be in prayer for all small business owners who are struggling at this time and for all essential workers. Also, please pray for children with varying disabilities who are having a difficult time accessing services and therapy, like my son.
Please pray with us for Dave, Rachel, their family, and other small business owners during this time.