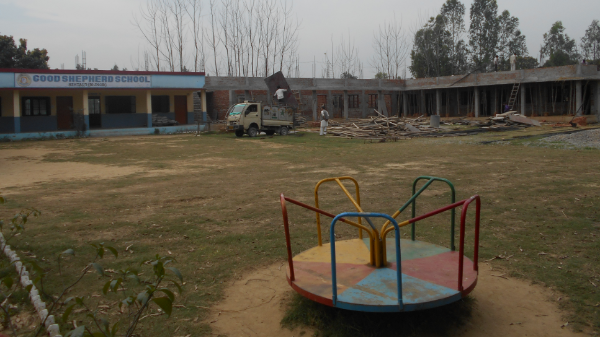 Seven years ago, SDBC made the decision to build an English language Christian school in India, in the little town of Nehtaur. The goal for this project was to provide an education for the impoverished Dalit children, an education which will benefit them as they seek to break free from the slavery they live with, being part of the low-caste Dalits.

Under the leadership of Greg and Marian Hislop and the DFN team, we have raised enough funds to construct a school with ten classrooms, with nearly 300 students who receive the education we were praying they would receive. There are teachers and students who, because of our sacrificial giving to this school, are finding new relationships with Jesus Christ, in addition to receiving education. These are the "seeds" we planted in what we pray will be fertile soil. We pray this will transform this city and the lives of the Dalits who live there.

The work is not yet completed. The school needs more classrooms as each year brings a new class of students, while the older, existing students move forward in normal progression to the education we pray they will receive. Each of us has a role to play in this work. All of us can pray. Many SDBC attendees are sponsoring a child in this school. More children need to be sponsored. More classrooms need to be built.

I urge you to keep the Nehtaur school in your prayers. Pray for the teachers who, in the face of hostile outside forces, continue to love and teach these children. Pray for the children, for their physical and spiritual protection. Pray for the raising up of the necessary funds to continue our work there. It all begins with prayer.