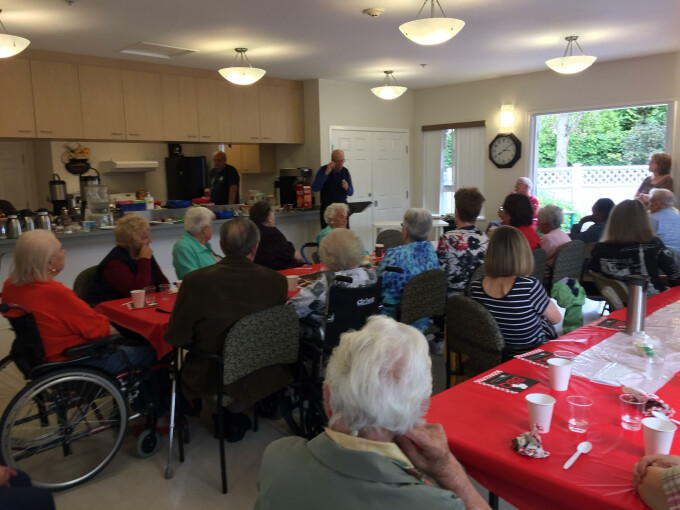 About two weeks ago, one of our compassion ministries hosted a BBQ at Kin Village Senior Care Centre. These faithful servants are developing significant relationships with many of the residents at Kin Village. A large number of these residents are now members, or regular attendees, of our services at SDBC.

This team represents one of several SDBC ministry outlets at Kin Village. They host a weekly bible study, taught by Marilyn Carmack, each Monday afternoon at 2PM in one of the Kin Village dining rooms. It is followed by a coffee and tea time where others like Marilyn are able to get to know the residents in a more personal way. Another group of SDBC volunteers put on a similar coffee/tea time every other Saturday.

By being available, with hearts to help and serve, the gospel is being shared vocally by teaching and serving. These outreaches enable us to just be friends with the residents. We are able to get to know them and then help those who are in need of assistance, including medical help or counselling. It is a ministry of putting the love of Jesus into action.

There are individuals and families who regularly serve at Kin Village. Some go to the facilities monthly and put on a church service for the residents, while others just go and sing to those who cannot leave the facilities.

Kin Village is a God Story in our own city. Perhaps you have a desire to come alongside one of our several outreaches at Kin Village. If so, please contact our Kin Village coordinators, Chris and Dianne, at and let them know of your interest. When we serve like this, being thankful takes on a significantly greater meaning in our lives.