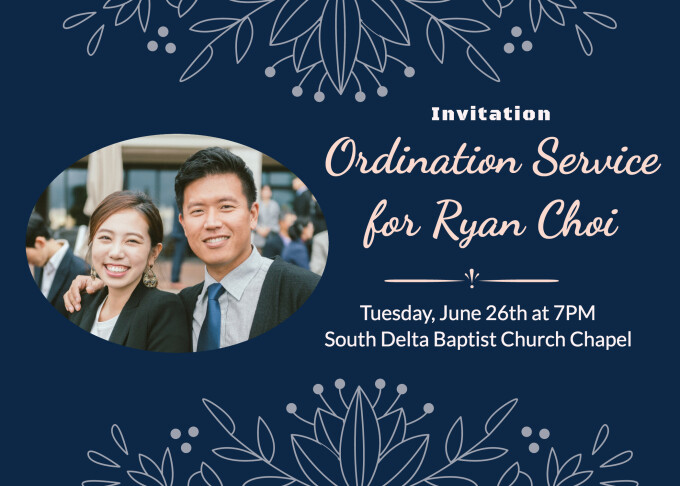 Our community is growing in its diversity, and this is slowly being reflected in our church family as we see a growth in our Chinese and Korean community groups. We are so excited to see this growth in diversity because we believe spiritual growth will happen when diverse people come together to learn from one another.
Last year, we began working with Ryan Choi, who volunteered as a director of Korean ministry at our church. A few months ago, he started working part-time with our media and communications team, and we're enjoying his passion for Jesus and the opportunity to share Jesus' love with Korean speaking people in our community.
In the Korean culture, accreditation and certification are very important, and this is true for ministers as well, which means Ryan being an unordained minister of the gospel is hindering his ability to share the gospel with Koreans in our community. In order to equip Ryan to be effective in sharing Jesus with the Korean speaking people, our leadership team decided to pursue ordination for him. We requested our denominational leaders from Fellowship Pacific to form an ordination council consisting of church leaders, missionaries, pastors, and professors from Northwest Baptist and ACTS Seminaries, and the council unanimously recommended Ryan's ordination to our board of elders.
Ryan graduated from ACTS Seminaries at TWU with a Master of Arts in Christian Studies degree in 2013, and he has had pastoral experience working with children, youth, young adults, and First Nations ministry as well. His experience includes working for church plants, small churches, and a church of over 1500 people.
On June 26th, at 7PM, we will be holding an ordination service for Ryan at SDBC in our chapel. This is a meaningful evening for Ryan and his family, and also for our Korean community group. If you're available, please join us to celebrate God's call on Ryan's life to be an ordained minister for His gospel!