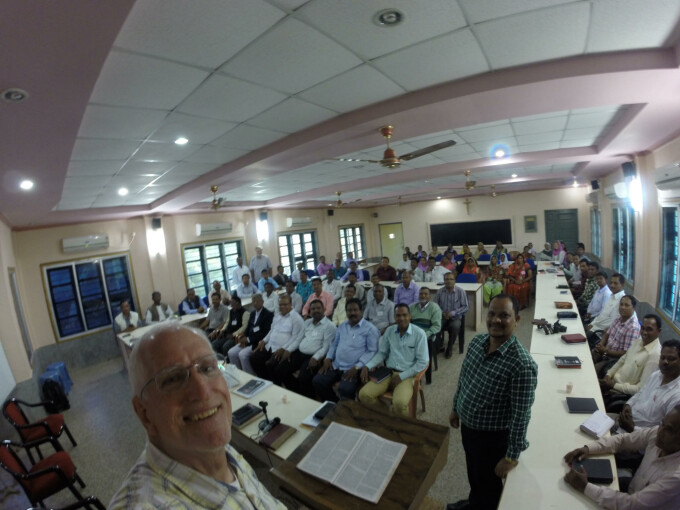 The picture accompanying this blog was taken before a communion service, on our last day of teaching a group of about 60 pastors who assembled in Orissa, India. For a week, Gerald Neufeld led this group in a study of Revelation; I taught them biblical hermeneutics (how to study the bible). These men are all Dalit pastors, most of whom have little formal training in the bible, doctrine, and theology. They were engaged with us from about 8:30 each morning until about 8:00 at night.
Many of them had to travel to the site by bus, train, motorbike, or by walking. Most of them are from small villages where they have no internet and no resources for studying the bible. They are eager to learn. They desire to lead the people in their villages to Jesus and then to make them disciples. These men are godly and self-sacrificing, and all live in a culture that is certainly anti-God, and especially anti-Christian. They all suffer some form of persecution for their faith in Jesus.
Included in the picture toward the rear of the photo, are a group of about 30 women, some of whom are wives of the pastors, others are women who seek to share the love of Jesus in their villages and communities. These women were taught all week by three other women, two from India and one from Canada, on becoming women of God.
This trip was made possible for Gerald and me by the support of the SDBC elders and congregation for which these pastors gave thanks to, and took a year to plan. It was Gerald's third trip to Orissa to teach these same pastors, and my first trip.
Gerald was able to go a week earlier and teach another group of Dalit pastors in a different setting, plus he shared the gospel at a girl's vocational and bible school. We were also able to visit our Good Shepherd School in Nehtaur, India for a few hours and meet with the staff and children of the school. We will report about these various parts of the trip in a separate blog in upcoming weeks.
For Gerald and I, we have been privileged to watch God work in all these settings. The support we have received from SDBC for this work is paying off in many ways, both in India and here at home. We look forward to continuing our work in India as we play our part in sharing the love of Jesus around the world.