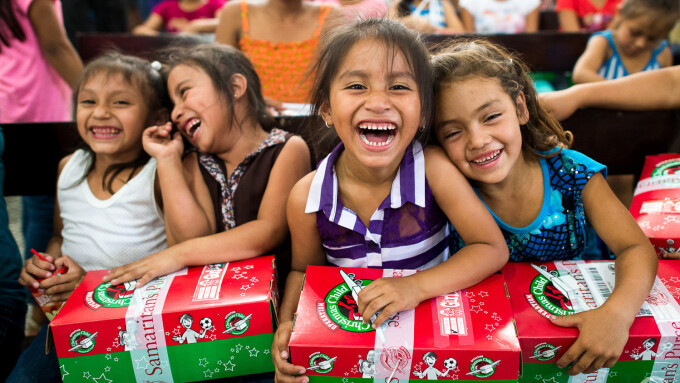 Operation Christmas Child is a ministry of Samaritan's Purse that aims to spread the love and gospel of Christ through the simple act of giving Christmas gifts every year to children living in poverty, in over 100 different countries. This ministry began in 1990 when two people, Dave and Jill Cooke, were inspired to spread joy and love during Christmas after seeing a report on orphans in Romania.
Today, thousands of churches and individuals fill shoeboxes with toys, hygiene items, school supplies, and more to be delivered to children all over the world for Christmas. It is a simple way to help those in need around the world and also to spread the joy and message of Christ during the Christmas season. Since 1990, shoebox gifts have been delivered to more than 157 million children, in over 130 countries. In 2018 alone, Canadians donated 517,437 Operation Christmas Child shoeboxes.
This initiative doesn't end with the shoeboxes. After the boxes have been delivered, the OCC staff begins a 12 session bible study called, The Greatest Journey, to teach children and families all about who God is and what He has done for them. Through this teaching, millions of children are coming to know Christ as their Lord and Saviour, and it all begins with a simple shoebox.
This fall, SDBC will become a collection centre for these shoeboxes for the South Delta region. Starting this Sunday, shoeboxes will be available to be taken home to be filled in preparation for National Collection Week on November 18th-24th.
We encourage you to take a shoebox this coming Sunday from the Spotlight Table and commit to filling it with toys, hygiene items, school supplies, or anything else to help those in need and bring them joy this Christmas. We would also encourage you to do this as a family or a community group. Boxes will also be available in the front office for pick-up, during office hours (Monday to Thursday, 9AM-4PM).
If you have any questions about Operation Christmas Child, visit the Spotlight Table on Sunday to talk to a member of the team that will be heading up this initiative. You can also email Britni McDonald, who is the Local Logistics Coordinator for South Delta.
For more information, click here.