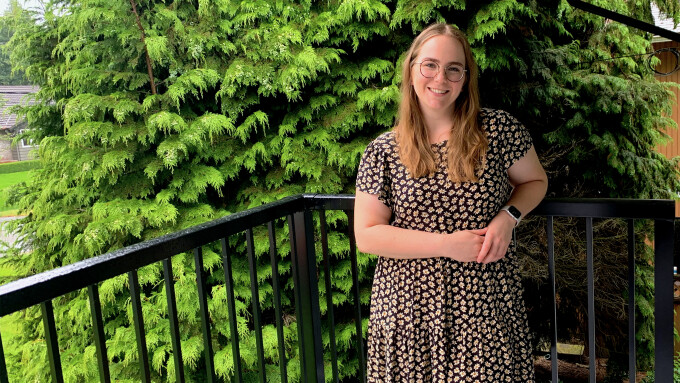 Hello everyone! My name is Kaitlyn Shipowich and I am the SDBC Kids intern. I have attended South Delta Baptist since 2012 and have served on staff since 2016. What I have missed most through these past few months of the pandemic is the fellowship and community that are so present every Sunday, as well as during events hosted during the week. I miss walking into church on Sunday and being greeted by person after smiling person. I especially miss seeing all of the wonderful children that attend our Sunday programming.
As a student during the pandemic there were many challenges and different emotions that came along with the news that classes would be moving online. First was the fact that I would not be seeing many of my friends from school. The social environment at Trinity Western University (TWU) is incredibly unique and, as a student leader, I had gotten to know a wide range of students; each one had uniquely supported me in my education career, my personal life, and my own faith. Because the announcement was made on a Saturday, there were many goodbyes that were never said, at least in person. Then there was the challenge of transitioning to online learning. I know that many university students, as well as high school and elementary students, had a difficult time moving from the classroom environment to learning at home.
The whole semester, year, and, I can honestly say, my entire time at TWU, has a sense of being "unfinished." There were no graduation events, friends returned to their home countries within a matter of days and without formal goodbyes, and I know that I will not be returning to the school come September. I look at my experience, and that of students all over the country, and it is easy for me to focus on all of the things that we have missed out on as a result of the pandemic. However, I know that God is working through this. Friendships have become more intentional, as we are not able to see all of our friends from school on a regular basis, we have been forced to make time for one another, and be intentional in our communications. Online school requires much more discipline and organization in order to finish assignments in a timely manner. For us graduating students, be it from high school or university, the next phase of our lives may be uncertain right now, but my encouragement for everyone would be to look up towards the Lord and give to him all of your worries for the future. No one knows what next year, next month, or even next week will look like, but God in is complete control even when we are not. We can take comfort in what is said in James 1:2-4: "Count it all joy, my brothers, when you meet trials of various kinds, for you know that the testing of your faith produces steadfastness. And let steadfastness have its full effect, that you may be perfect and complete, lacking in nothing." If we rely on Jesus in this time of struggle, he will show us the joy that comes with holding true in our faith.
In this time, please pray for all the students who are finishing their school year. It has been a challenging few months, and becomes even more so when you can see the end. Please pray for those of us who have recently graduated, that God will show us what his plans are for our lives, and even though things may be frustrating and uncertain, please pray that we can turn our eyes towards God to show us what the next step is.
Please pray with us for Kaitlyn and all students, as they complete this school year and face the uncertainty of what the future may bring.