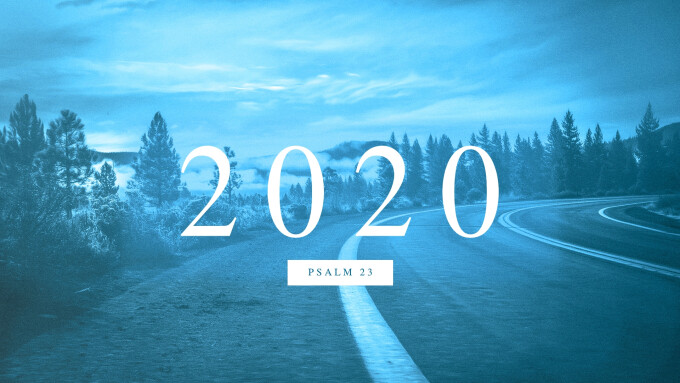 2020 is hard to describe in a few words. For many people, it was challenging, difficult, depressing, stressful, unexpected, and even full of regrets and resentment. For some, it was a time for unifying, growing, learning, refocusing, and even rejoicing. Some of us lost loved ones during this difficult time and others lost jobs. Some of us, though, started new relationships, started a new career, got married, and even gave birth to beautiful children. Overall, reflecting on this unique year leaves me remembering Psalm 23. Even though David "walk[ed] through the valley of the shadow of death," he still professed that "the LORD is [his] shepherd and that [he] shall not want." He praises God for restoring his soul and leading him in paths of righteousness. Despite the greatest challenges of his life, he experienced the Lord preparing a table before him even in the presence of his enemies. He exclaims that God anoints his head with oil and that his cup overflows. He is confident that he shall dwell in the house of the LORD forever.
It is okay for us to admit that this past year has been challenging or even excruciating. However, we can still set our gaze on God who remains our only hope whether times are easy or difficult. When times are relatively easy, we may be tempted to think we don't need God to be our hope. When times are too difficult, we may forget about the hope that God promises and be tempted to despair. No matter where we are in life, the best way forward for all of us is to remember that God is our refuge and strength. He is our hope and our reason to be able to trust that we will be okay today, tomorrow, and forevermore. He is for us and not against us.
When we walk through our own valley of the shadow of death, let us not forget about the great Shepherd who satisfies our souls; the one who makes us lie down in green pastures and leads us beside still waters; the one who makes our cup overflow and fills our lives with goodness and mercy. Let us not lose sight of the fact that we WILL dwell in the house of the LORD forever. Amen.
I miss you and I long to see you. Until our Lord allows that day where we can see each other again, may our mighty God protect you, fight for you, and make his presence known to you as you reflect on 2020, and may he continue to be your hope as you head into 2021. May you experience a merry Christmas and a happy New Year.
Your brother in Christ,
Paul