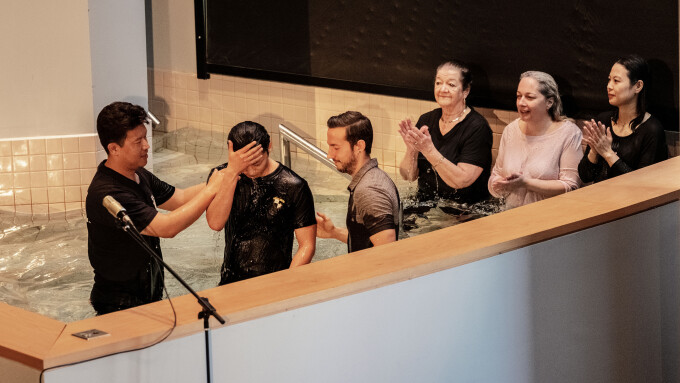 We live in a world that is busy. It feels like each week goes by in a flash and before we have time to reflect on anything, off we go to the next week. Taking time to slow down and reflect on what's happened in our lives provides us with a unique opportunity to praise and worship God. Reflection helps us to recognize how God has been active in our lives leading us, guiding us, shaping us, transforming us, challenging us, encouraging us, carrying us, and moving us closer into deeper relationship with him. As we enter the last couple weeks of 2019, I've spent time in prayer and reflection considering the various ways in which God has worked in and through us as a church. Here are just a few of the many things God has done in our midst over 2019:

February:
Jordan Scott transitioned into a new role as Executive Pastor
We had the privilege of baptizing Chelsea McKenzie
April:
Easter weekend with David Kitz performing The Centurion's Report
Easter prayer vigil prayer card request: 60 cards were received, which means 60 people are being prayed over from Easter 2019 until Easter 2020
At our Annual General Meeting celebration we voted in two new elders, Trevor Bakken and Dave van Til
Dave van Til became the new board chair
We launched a new sermon series in the book of Mark
May:
Mary Grierson transitioned into a new full-time role as Community Life Coordinator
Our two interns, James Cox and Kaitlyn Shipowich, came on board in a full-time capacity from May to August
We had the privilege of baptizing Connor Bower, Vi Tunstall, Jaehun Jung, Eunsuk Sung, and Michelle Baker
June:
Plans for SDBC's 60th anniversary were unveiled
We outlined our goal to raise 60K for three initiatives: Youth and Children's facility upgrades, Starfish Pack program, and a tutoring initiative
Gatlin Saip transitioned out as Director of Worship Arts at the end of June after powerfully leading us for the past two years
July:
Our annual Salt Spring Island missions trip was a success with many people on Salt Spring impacted by the gospel
We launched a new Family Camp which was geared around families engaging the gospel together
Jayson Oldham was brought on as Interim Director of Worship Arts
September:
We held a special Back to School service which featured a youth band
We had the privilege of baptizing Zach Kozar
October:
We held our 60th Anniversary Banquet and Fundraiser @Tsawwassen Springs
We raised roughly 65K for our three initiatives, exceeding our 60K goal
Rick Burdett transitioned off staff after nine incredible years pastoring at SDBC and is now an SDBC supported missionary working for Outreach Canada as COO
We had the privilege of baptizing Sheila Williams
November:
Annual Business Meeting celebration was held, where the 2020 Budget was approved
Kyle McDonald transition out as Youth & Young Adult Director after close to three years of effectively pouring into our youth and young adults
December:
Jayson Oldham was hired full-time as Director of Worship Arts
Over the course of 2019:
11 new members joined SDBC
at least 12 people committed their lives to Jesus Christ
2 new community groups were formed
43 people joined community groups
327 people are listed on our 2019 community group roster
6 children were dedicated
15 new families registered with Kids Ministry
This list could highlight so much more because God is doing great things in our midst! As we end 2019, I can't help but feel a sense of anticipation looking ahead to 2020. I can't wait to see what God is going to do in and through us as a church for the sake of his kingdom, his honour, and his glory. I encourage you to spend some time reflecting as we end 2019 along with prayerfully anticipating what God is going to do in 2020.