SDBC AGM 2020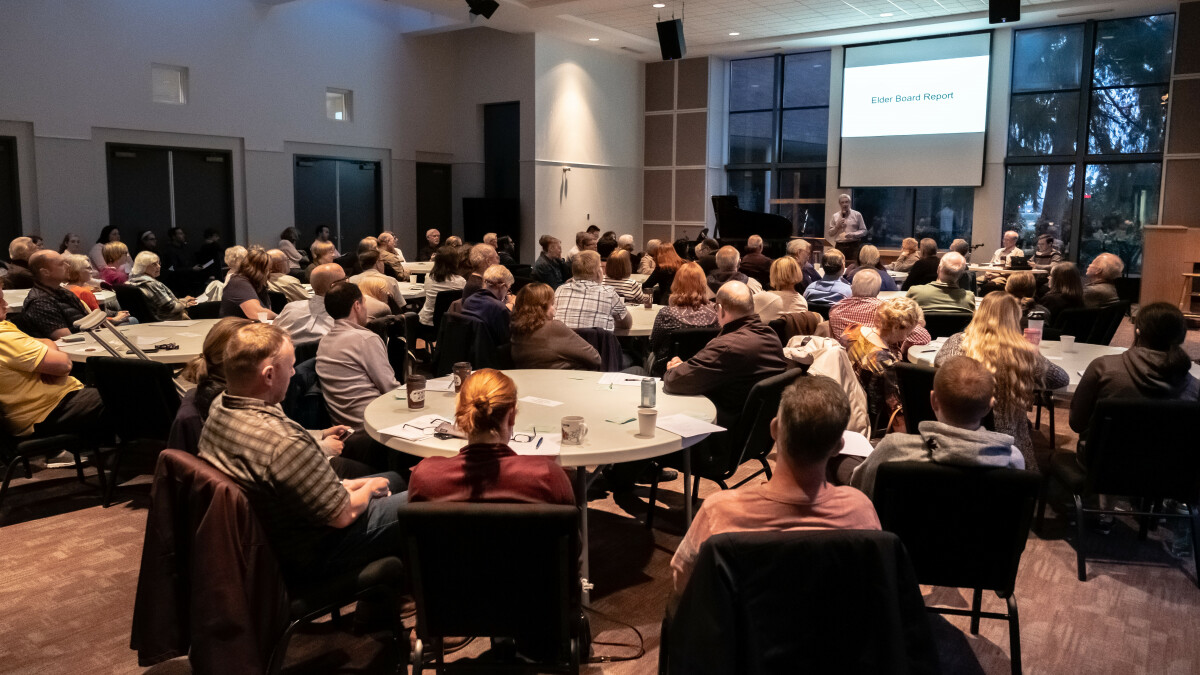 Tuesday, September 15, 2020, 7:00 PM - 9:00 PM
Registration for this event will close at 9AM on Tuesday, September 15th.
Our Annual General Meeting was postponed indefinitely due to the global pandemic and the ensuing restrictions on large gatherings. Even though we are still limited in what we can do, we have decided that it is time for us to move forward with our AGM. We have some important church business to vote on this year. We are voting on two new elder candidates and the new church bylaws. The AGM packet was distributed online several months ago, and you can download the document HERE.
Our plan is to hold our AGM on September 15th at 7:00PM. As with all of our events, all members who want to attend the AGM in person at the church will have to pre-register for the event (click here to register). All of our current COVID-19 related safety measures will be applicable to this event including the limiting of the event to fifty people or less. If we have more than fifty people register for the AGM, we will open up a secondary location within the campus to host an additional group of up to fifty people. We have checked with the provincial health authorities to ensure that this is safe to do so.
For those of us who are still uncomfortable attending a gathering like this, we will be live-streaming the AGM on our Church Online platform. This is the same platform that we use for our Sunday morning services, so you can click on the same link (or click here) at 7:00PM on September 15th, and you will be able to join the AGM online. If you choose to attend the AGM online, you can use the chat feature on our Church Online platform to ask questions or make comments, and the moderator and staff will facilitate the chatroom so that the online participants can communicate to those who are meeting in-person.
If you are wondering how you will be able to vote if you choose to participate online, we will have "voting stations" set up at the 56th street entrance of our church where you can sign-in as a member, verify that you have watched the AGM online, and cast your vote on a ballot. The voting station will be open on September 16th from 8:30AM-10:00AM and on September 17th from 5:00PM-7:00PM. Scrutineers will be at the voting stations and will help you if you have any questions while maintaining social distancing. Your privacy will be ensured as you vote at the voting station.
If you happen to be self-isolating or in quarantine because you have travelled outside of the country or have symptoms of COVID-19, we ask you to stay at home and let us know by emailing or calling the church office so that we can drop off the ballot at your home so that you can still vote and participate online. If you will be using this method of participating in the AGM, please let us know by September 14th so that we could set this up for you.
We recognize that this is a lot of information and a bit more complicated than we would like, but our goal is to conduct the AGM in a safe manner while allowing all members access to the AGM whether digitally or in person. If you have any questions regarding the process, please give us a call at the church office (604-943-8244; M-Th, 9AM-4PM).
Finally, please pray for our AGM and the business on the table. May God lead and direct us in a way that is pleasing to him and good for our church family.
Click here to register for this event
Registration for this event will close at 9AM on Tuesday, September 15th.
---
Click here to download the AGM Packet
As reported at the November 2019 Business Meeting, a sub-committee of the Board of Elders has been working since June 2019 on a refreshed set of bylaws for SDBC. After many hours of meeting, reviewing, and receiving input from elders, staff, and others, we are now ready to present the proposed bylaws to the congregation. Two documents are available below for your review. The first is the proposed bylaws that will be presented for adoption by the membership at the 2020 AGM. The second is a change log of the proposed bylaws.