Summer fun at SDBC will take place all throughout the summer. You will find events for kids, youth, and the whole family on this page.
---
Summer events:
Preteen to Young Adult Event: Friday, July 27th: Slip'n'slide Kickball: this event is for preteens up to young adults. Join us at the church for some kickball fun from 5-7PM.
Youth Summer Events (grades 8-12):
August 17th-18th: Cultus Lake Waterpark Night Slides: Every year Cultus Lake Waterpark puts on a late night sliding event. We will be leaving the church at 5:45PM on August 17th, sliding during the evening, and returning afterwards to sleep at SDBC. Parents can pick kids up at SDBC at 1:30AM OR 9AM Saturday morning. No pick-up throughout the night for safety reasons. Cost is $25 per youth. If you have not returned your liability form yet, please download our liability form, complete it, and return it to the church office (office hours are M-TH, 9AM-4PM). The deadline to register for this event was August 12th.
Saturday, July 21st
SDBC Carnival
Whether you want to test your aim at the dunk tank, take a ride down the Super Slide, or play some classic carnival games, this event will have something for the whole family! Join us from 11AM-2PM as we host a fun-filled afternoon featuring free games and attractions. Be sure to grab a punch card as you come in to be able to win a prize bag on your way out. Lunch will be available for purchase during the event. Bring your friends and join in on the fun!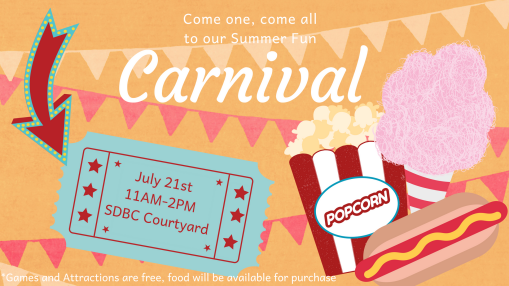 Sunday, August 26th
Church Picnic
Everyone is invited to join us for the afternoon directly after the service on August 26th, to wrap up our summer. Bring your picnic lunch and meet us at Centennial Beach for softball and other games! We look forward to spending the afternoon with you. For more details, please contact Kaitlyn at .