Men's Breakfast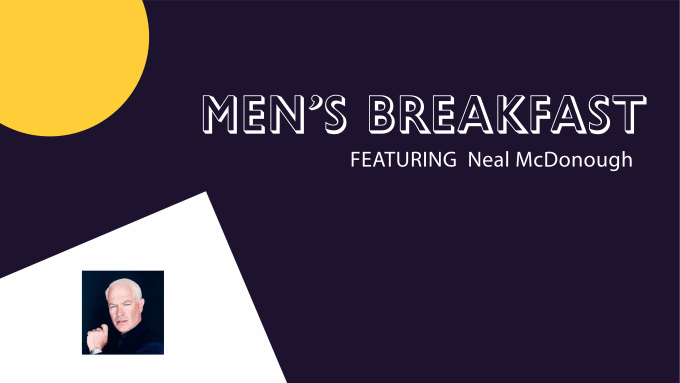 Why is it rare for men to get together as men? Busy? Not inclined? Regardless, God calls us to be in fellowship with one another. Hebrews 10:25 reminds us to "not neglect to meet together, as is the habit of some." It is important, for a number of reasons, including making each other better (Proverbs 27:17), meeting Christ (Matthew 18:20), encouraging one other (Hebrews 10:24, Romans 1:12), and supporting one another (Galatians 6:2), just to name a few.
Men's Ministry at South Delta has a goal of providing opportunities for men to get together in fellowship. Outings to ball games or hockey games, outdoor activities (hiking, snowshoeing, and golf), and excursions to interesting places are all events that are focused on connecting men.
Our Men's Ministry's most significant event each year is our annual men's breakfast. Our theme this year is "Faith and Hollywood" and our featured speaker will be local actor Neal McDonough, who has a powerful story that will speak to the men in our community. You may recognize Neal from his roles in numerous movie and television productions such as Captain America, Arrow, Suits, Red 2, and most recently, Project Blue Book.
Neal will speak to us about his journey with Hollywood and how he has managed to balance faith, family, and his work. While unique, his journey has relevance to all men who try to set and maintain the balance of priorities in life.
The breakfast will be held at South Delta Baptist Church on Saturday, April 13th, 2019. Doors will open at 8AM and breakfast will be served at 8:30AM. Tickets are $15 each or $120 for a table of 9 tickets (8 for the price of 9) and must be purchased online or at the Spotlight Table on Sunday, March 17th. For more information, and to purchase tickets, visit our Men's Ministry page. Tickets purchased online will be available for pick-up at the "will-call" table the morning of the breakfast. You must bring your receipt in order to pick up your ticket.