A Gospel-Focused Soccer Camp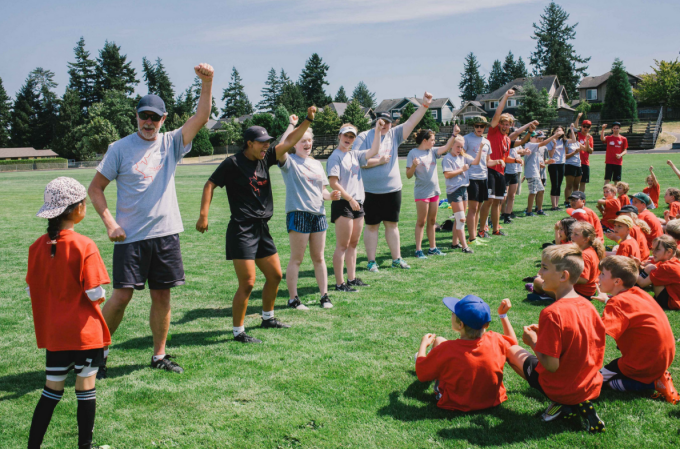 Soccer camp--what an amazing, God-filled week it was! Last week was the culmination of the project that I have been working on with SDBC Kids since January and I could not be happier with how the week unfolded. Despite some confusion going into the week, God was so faithful in the amazing volunteers He provided and how He worked throughout our camp. Because it was a smaller camp, we had a smaller group of volunteers who were able to receive substantial training to coach at our soccer camp. It was evident that they were passionate about teaching the kids not only soccer skills but most importantly about Jesus. It was incredible getting to see the coaches grow in their own skills and confidence throughout the week. Seeing them develop as leaders and followers of Christ was one of the most rewarding parts of the week!

Every day, the kids learned lessons that explicitly mentioned the gospel and Jesus Christ. They learned that they were created complete and that people can be broken and blind but God can show them the way. They learned that we need a radical restart from God and make it through the tough times, but in the end, we have a "cool calling" from God to follow Him and tell everyone about Jesus.

The Coaches Corner time was completely gospel focused and by the end of the week, seven kids came to Christ, most of whom never went to church, and almost every child went home with a bible! It was so evident that God was working through the volunteers and in the hearts of these children at camp. I am so excited to see what God will do with those seeds that were planted at camp and I would love to encourage everyone that reads this to be in prayer for those kids who accepted Christ, especially for the kids whose parents do not go to church as they may not hear about Him at home. They need to know that even though camp is over, Jesus is not done with them! "Train up a child in the way he should go; even when he is old he will not depart from it" (Proverbs 22:6).

Finally, I would love to give a HUGE thank-you to everyone who was involved with soccer camp either directly or indirectly. Thank you to the volunteers who served in every area of camp, thank you to the parents who sent their children, thank you to those who donated snacks, and thank you to everyone who prayed for the camp. God bless you!