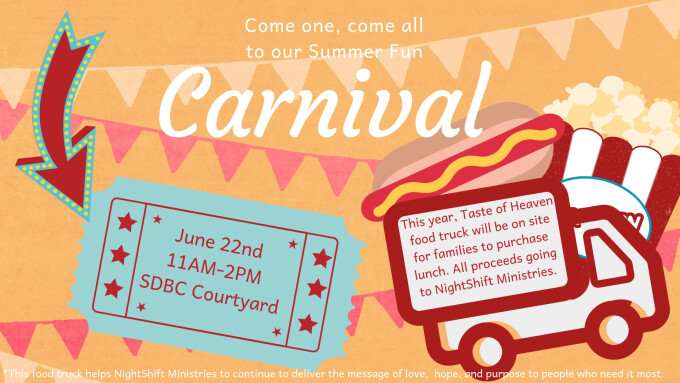 Our SDBC Kids Team has the privilege of serving families who are raising their children to be Christ followers. It is a joy to hear the children tell us who God is and seeing their trust in Him. We only have a tiny bit of time on Sunday morning to teach the children, so assisting families in the spiritual training of the children needs to be very intentional. We are working hard at creating events to build relationships with families, as well as teaching spiritual life skills. These events also give our families an opportunity to be missional by inviting the neighborhood children and families to take part.
Summer will be here before we know it, so get out your calendars and mark down the following dates. You won't want to miss these fun events!
June 22nd // 11AM - 2PM
Our Carnival is back, and it's bigger than last year! We will have a huge blow up slide, pitch and put, bouncy castle, and so much more. This year, we have the Taste of Heaven food truck coming to serve up tasty gourmet sausages in a bun for lunch. All proceeds from the Taste of Heaven food truck will go to support NightShift Ministries in Surrey. Taste of Heaven feeds more than hungry stomachs. If also feeds hungry hearts, because when you buy food from this truck, you become part of a community-based solution for people who are stuck in poverty, addiction, mental illness, homelessness, or loneliness. Let's be missional with our neighborhood friends and invite them to this event.
July 21st // Directly after the service
We will trust in good weather this year for our church Picnic and Softball Game on July 21st, right after the service. Bring your own picnic lunch, beach toys, lawn chairs, softball gloves, and energy for fun picnic games, a scavenger hunt, and a softball game. We will have an area reserved right by the baseball diamond at Centennial Beach in Tsawwassen.
July 24th to 26th // 6-8PM
We will also be venturing into new territory this year with our Hero Training Camp for the whole family, on July 24th to 26th. As families arrive for this event, they will be grouped together with other families to embark on their Hero Training. Whether you are a grandparent with grandchildren, a single parent, blended family, or a family with many kids, there is a place for everyone.
Have you noticed how many children rely on external prompts such as bribes, threats, or parental nagging to get things done? Well, that is all about to change. In Hero Training Camp, children will learn to do what's right, deal with wrongs, be honest, and care about others. Family groups allow families to partner together, demonstrating the unity of our church family. During our Hero Training Camp, parents will work directly with their children to introduce the lesson for the day, prepare children for the things they'll learn, lead family activities, and then have the opportunity to reinforce the lessons at home. Don't worry parents, everything will be provided for you, even the answers!
We will gather together as family from 6-8PM each evening, for worship, games, crafts, and to learn about King David. Children will learn from all of these activities that they can be heroes now, in everyday life.
The Hero Training Camp is part of our ministry for families and is targeted for children ages 3 to 11 (Grade 5). We will have complimentary childcare for the younger children in your family. Registration for this camp will open Sunday, May 26th.
All these events, and our Sunday morning program, can't happen without your support of prayer and serving, so please don't hesitate to join our team, to help us train up a child in the way they should go. Contact Sue Gibson for more information.