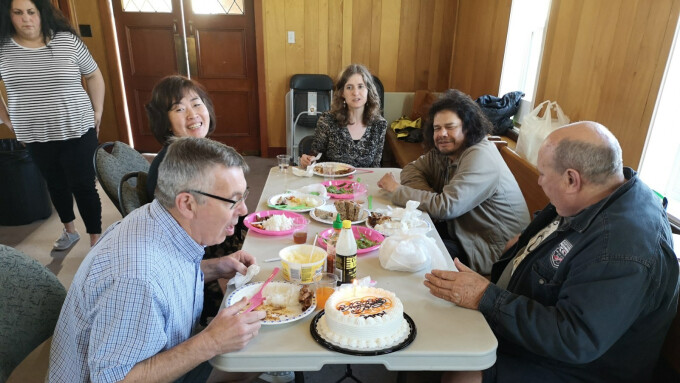 More than 10 years ago, a group of Korean Christians began a food bank ministry on the Tsawwassen First Nation (TFN) lands as an extension of the Ladner Food Bank. In the past, both Pastor Paul and Pastor Ryan have been involved with this ministry, and several years ago my husband, Garry, and I also became involved.
It may not be generally known, but not all those who live on TFN land are actually band members and many live on a very limited income. For those who are members, often any funds distributed by the band are dispersed in periodic lump sums, leading to a cycle of "feast or famine." Sadly, as with many communities across all ethnicities, the effects of drug and alcohol abuse also play a significant role in the lives of many. Our role at the food bank is to assist with communication between the clients and the mainly Korean-speaking workers, to drive clients home with their food, and generally to be a friend to all who come through the doors. This has led to the opportunity to visit and pray with someone who had been hospitalized, to mourn with the community in times of loss, and to pray with others experiencing health concerns.
There is also an active Sunday night ministry led by Terry and Laura Weatherly, Owen and Lucine White, and Garry and myself. We begin with a church service and end the evening with a shared meal. Several individuals and community groups have graciously supplied meals in the past but it is an ongoing need. If you or your group feel this is something you could assist with, please email our team.
We often have few in number on Sundays but we have been greatly encouraged as we have seen God at work in the hearts of those who do attend. Those who once just filled a seat, are now actively engaged in singing praises to God and participating in prayer requests. We have witnessed instances when they have demonstrated caring among themselves by offering to drive a brother to the hospital to visit his sick sister or taking a meal home to a friend who would otherwise go hungry. In other words, they have begun to love like Jesus, and in doing so, we have become a family.