ABOUT SDBC
South Delta Baptist Church (SDBC) began on October 25th, 1959 in Tsawwassen. In the last sixty years, we've been blessed beyond measure, and we're now celebrating our 60th anniversary by investing in the next generation of our beautiful community in South Delta. To celebrate our milestone, we are aiming to raise money to invest in our next generation.
---
thank you to our sponsors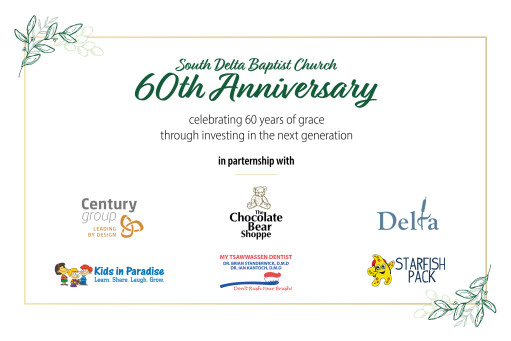 ---
COMMUNITY BASED INITIATIVES
starfish pack
"Helping children receive healthy meals."
Hundreds of children in BC go to school on Monday having had no food over the weekend. Starfish Pack was created in response to this need. It costs $525 to sponsor a child for one year of this program, which will provide a backpack each Friday throughout the school year filled with 2 breakfasts, 2 lunches, 2 dinners, and some healthy snacks. We're starting with two schools in Tsawwassen, but our desire is to support every student who needs our support in South Delta. The more money we raise, the more children we'll be able to help. We hope to bring this program to every school that needs Starfish Pack.
tutoring project
"Helping children receive the education they need"
We are partnering with the City of Delta (Awesome After School) to provide a free after-school tutoring program at the South Delta Recreation Centre. Our tutoring program will include trained tutors in the Orton-Gillingham approach, which has helped many dyslexic children improve their literacy. This sort of tutoring is normally very expensive, so we're excited to make this quality supplemental education accessible to children who experience learning challenges due to dyslexia and/or other learning disabilities.
For more information on any of these projects, please email Mary Grierson.
---
support these initiatives
We have opened a designated fund so that you can donate directly to our 60th Anniversary Project. You can give online via our online donation form from Canada Helps by clicking the button below, or you can give on Sunday mornings or in the church office during the week (M-Th; 9AM-4PM). Donations must be designated as "60th Anniversary Project" in order to go towards this fund.